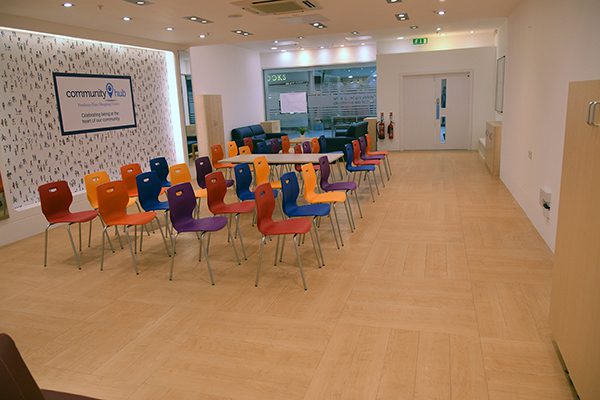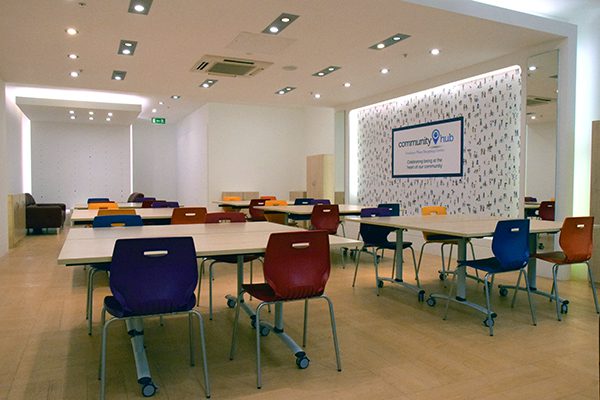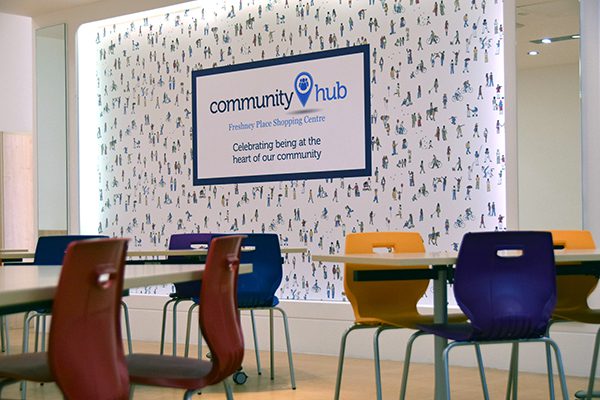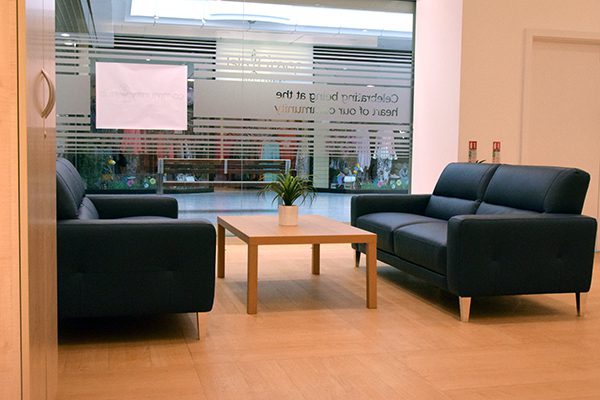 About the Hub
Our Community Hub is available to use free of charge for charities, community groups and good causes.
The Hub is available to commercial businesses at a fee payable to our chosen charities.
The Hub is ideal for the use of meetings, workshops, exhibitions, etc.
The Hub is located on Baxtergate near our Customer Service Desk.
Availability and Capacity
Monday to Saturday, 9:30am to 5:00pm and Sunday, 11:00am to 3:30pm.
There is no limit to how many times you can book the Community Hub.
The Hub has a number of layout options dependent on your requirements.
Facilities
Free WiFi is available in the Hub.
The Hub does not have a projector, flipchart or screen. There are power sources to plug in your own equipment. There are plain white walls which can be used to project onto.
The Hub is equipped with folding tables, stackable chairs, and comfy leather sofas.
Currently basic tea and coffee provisions are offered free and should be requested at the time of booking. The Hub is equipped with a fridge, microwave, tea urn, tea/coffee pots, mugs, glasses, jugs and spoons. Please make sure you wash any items used and place all rubbish in the bins provided.
You may also bring your own refreshments (alcohol is not permitted), however, please ensure you leave the Hub clean and tidy when you leave.
There is a small kitchen area and an accessible toilet located at the rear of the unit equipped with a baby changing station.
For groups booking on a regular basis, onsite storage is available on request.
Booking Process
Please contact us for booking enquiries via email hub@freshneyplace.co.uk, telephone 01472 230250 or visit our Customer Service Desk on Baxtergate.
You will be asked to complete a booking request form, which can be downloaded below, collected from our Customer Service Desk or we can post one out to you.
Once your booking request form has been approved and we have received all the relevant documentation, you will receive confirmation of your booking. (For commercial use, payment confirmation is required before the booking is confirmed).
If you need to cancel your booking, please give at least 5 working days' notice so we can make the Hub available to another group.
You must arrive 15 minutes prior and leave promptly as we often have more than one booking per day.
The main organiser is responsible for the safety and wellbeing of all guests and must report to our Customer Service Desk to sign in.
The Hub is locked therefore on arrival the main organiser for your group should check in at our Customer Service Desk and we will open the Hub for you and your guests and run through our safety procedures.
Once your booking has finished, please report to our Customer Service Desk to sign out.