Green Grimsby at Freshney Place – Investors in the Environment
Posted: Tuesday 15th May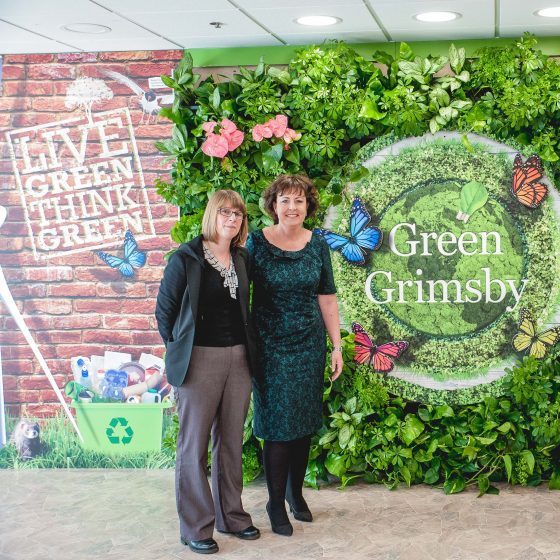 (From left to right, Becky Taylor, IEE and Amanda Austin, Freshney Place Shopping Centre)
In addition to encouraging a greener approach to living amongst colleagues and visitors, our Green Grimsby campaign is also focussed on transforming Freshney Place into a truly sustainable shopping centre.
We are working with Green Grimsby Official Partner, Investors in the Environment (iiE), to improve our operations so that we can achieve their highest level of accreditation – Green – for our efforts to reduce our impact on the environment.
The changes that we have implemented at the shopping centre are varied and all support the objective of minimising our carbon footprint. We are measuring and cutting down our entire resource usage, monitoring the amount of gas, electric, water, waste (refuse), recycling and paper usage. that we use and taking steps to decrease the volume we waste. We have also implemented a number of policies to help guide staff on their behaviours and professional choices, our policies cover sustainable purchasing, CSR and climate change and cite that fair trade/organic products, environmentally friendly cleaning products and recycled/FSC certified paper must be used throughout the shopping centre.
We have worked with iiE for two years and the improvements we have made in this time have already been vast. We are committed to continuing to enhance our environmental performance and to achieving their Green accreditation.