Green Grimsby – How You CAN Make a Difference
Posted: Thursday 03rd May
Last week we announced the launch of our Green Grimsby initiative and are pleased to report that it has already got off to a flying start!
Judging by the amount that have already been filled, many of you have already noticed the lovely green bins cropping up in the shopping centre. These bins are in fact aluminium-can recycling stations and have been put there to help make the recycling of drinks cans easier for individuals working at or visiting our shopping centre.
Installed by Green Grimsby official partner 'Every Can Counts' we hope to encourage more and more store operators and visitors to Freshney Place to recycle and make a positive contribution to the environment.
Every can that is collected from our green bins will be recycled and could be back on the shelf within just 60 days. Many people don't realise the huge difference recycling aluminium cans can make to the planet.  Aluminium cans can be recycled infinitely and unbelievably, the same amount of energy that is needed to make just one can from raw materials can produce 20 cans if recycled aluminium is used. Similarly, by simply recycling one aluminium can you would save enough energy to power a mobile phone for a day, boil a kettle three times or run a TV for four hours. So you see such an easy and simple step really can make a positive difference to the environment.
Currently, of the 9.6 billion drinks cans sold in the UK each year, 72% are recycled. We want to help increase this number to as near to 100% as it can possibly be so what are you waiting for – make sure that you use our green bins for used cans whenever you visit the shops!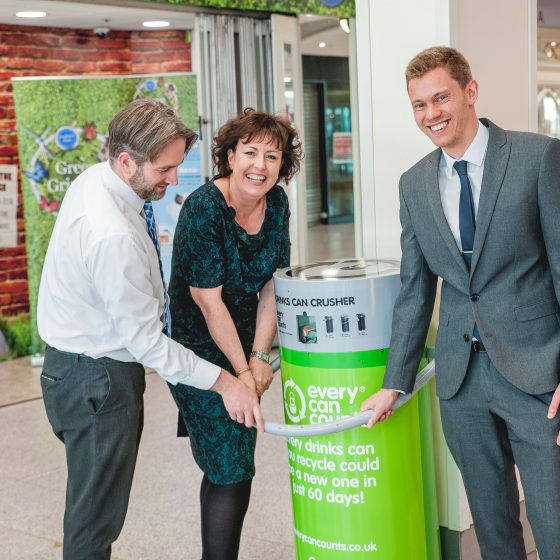 (From left to right: Neil Grice, Operations Manager, Freshney Place Shopping Centre, Amanda Austin, Centre Director, Freshney Place Shopping Centre and Chris Latham-Warde, Programme Manager, Every Can Counts.)